Hello everybody and thank you for sticking with me another week more! This is the second part on what happen in February at Bangkok, if you haven't seen the first part you can take a look over here.
While writing this post I realize this month was full of new experiences gathering a lot of beautiful people and what a better month to start new friendships and meet people if not February, right?
A very nice dinner and spa with some of my foreign colleagues, making friends at Chula University, going for a yoga class in the park and a very nice bike tour gathering with other Mexican interns, you name it.
I invite you all to join me through these experiences because I'd like to share with you how a little bit of openness from one's side can take you to another level of immersion in a different culture and live out of the box experiences. If you're into it and want to learn more about it keep reading!
Dinner with my Boss | iSanook
I've just been in Bangkok for a month and a half but I already have a lot to thank to iSanook Residence for.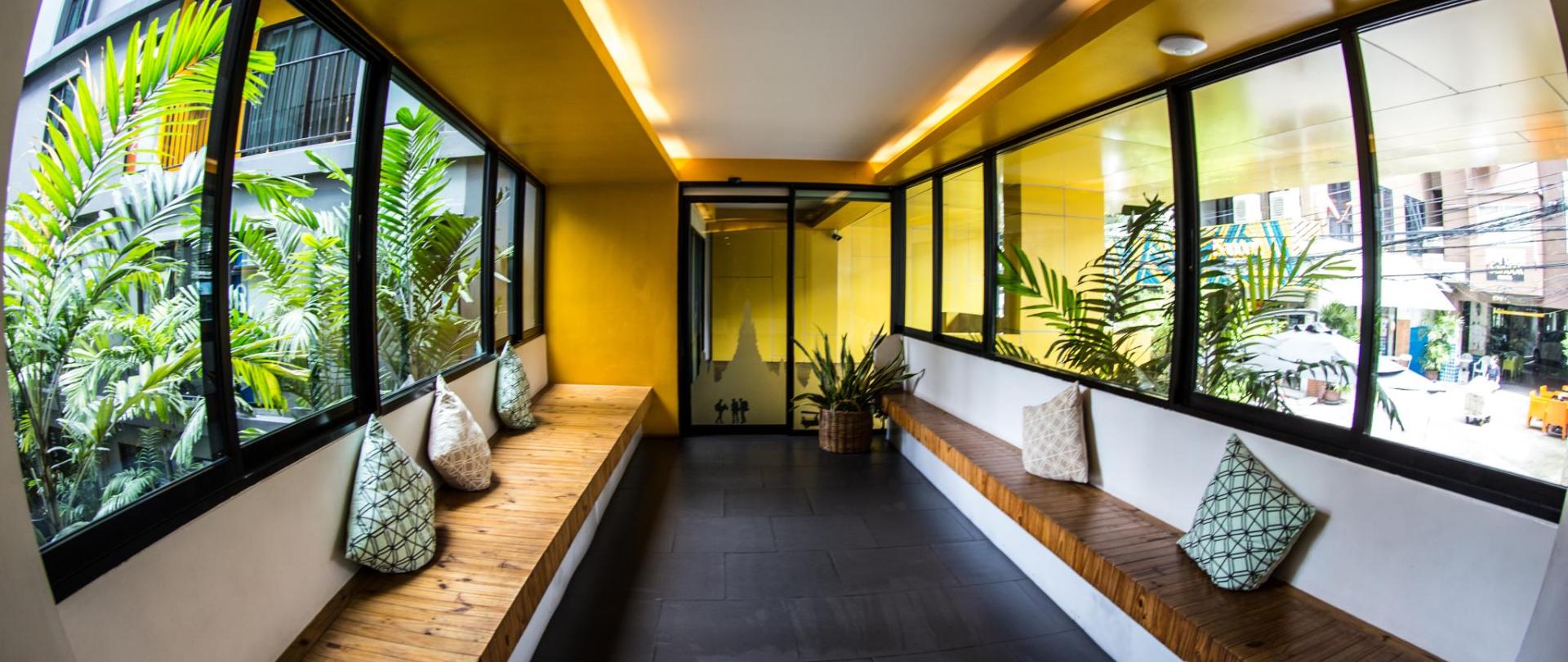 Having worked with two companies already and being part of small projects and events with more, I know by now the importance of having a good working environment and iSanook is surely aware of that.
Mr. Chati, iSanook's owner and Nick, our manager are always looking to make their employees and interns feel like home and with Micaela's farewell and my arrival, they invited us and Casey (a coworker from Indonesia) to have a very nice sushi dinner.
By now there's just iSanook Residence and iSanook Hostel but they're soon opening a Resort at Hua Hin so if you're heading that way or planning on coming to Bangkok be sure to check them out!
And for sure I'm not just saying this because I work here or because they're my bosses, you just have to see Booking.com and Expedia's comments to find out. I have a lot of things to say about this company but for now I'm just gonna say that I love it!
Spa Night at Khao San Road | Shewa Spa
Ok, now back to this date, as we where already together, Micaela, Casey and I decided to head into Khao San to get a lady's night out with a facial and pedicure spa treatment day at Shewa Spa.
There are a ton of different Thai Massage and Spa places all over Bangkok which if you didn't know, Thailand is super famous for (I haven't had it yet, unfortunately).
This time we decided to go for a facial because at least for me, I haven't had the best skin recently and with the flight and all the food, weather, etc changes, it got even worse.
The facial they offer includes:
Facial massage
Infrared light for disinfection
Facial Cleaning with herbs
Facial care with fresh fruits
Aerosol and deep cleaning
Facial compress
Herb package
Cucumber refreshment
Nourishing cream
The price for this is about 400 Baht + 300 for an Acne Mask afterwards to close and tighten the pores but you can skip this part and get something specific for your own skin type or problem. I think they offer a nice package and its a good price but when we went there was a lot of people and they didn't took the time to do it fully or properly.
The same for the pedicure I took, the nail polish was not very good and they barely do anything to my feet. According to Micaela they're usually very nice, it was just that night. Over all it was OK but I would't say it was the best either.
New Friendships
I didn't really got to see many touristic places such as new temples or attractions this month but I spent my time getting to know even more my surroundings and as I said earlier, even tho I've just been here for a month I'm already feeling at home.
Part of it is because I've put an effort to get me settled in my room and feel comfortable by myself (see My first time living alone) but also because by exploring my surroundings I found out activities that brought me closer to new people who in a very short amount of time I feel comfortable calling them friends.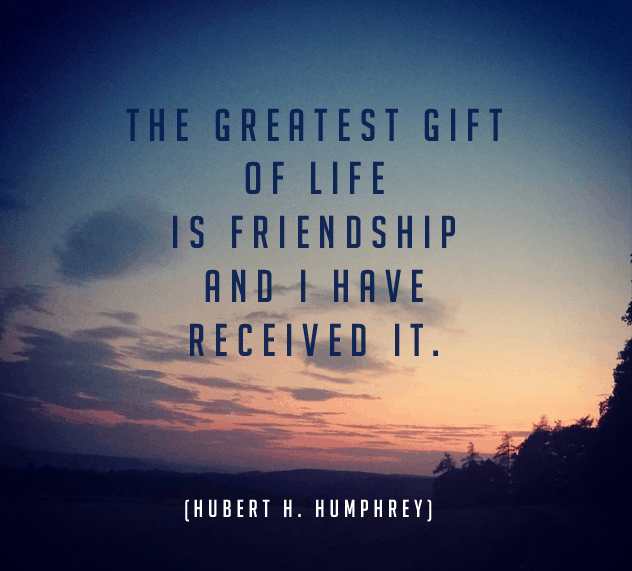 Making friends at Chula | Chulalongkorn University
One of the nearest shopping malls from Bangrak is MBK where you have a lot of options for money exchange, a specific area to buy souvenirs, a lot of food courts and more (I'll talk about MBK and other shopping malls in further posts). So that's why I visited this mall several times by walking already and on the way there, I figured it was an easier and faster way to get a shortcut through Chula University.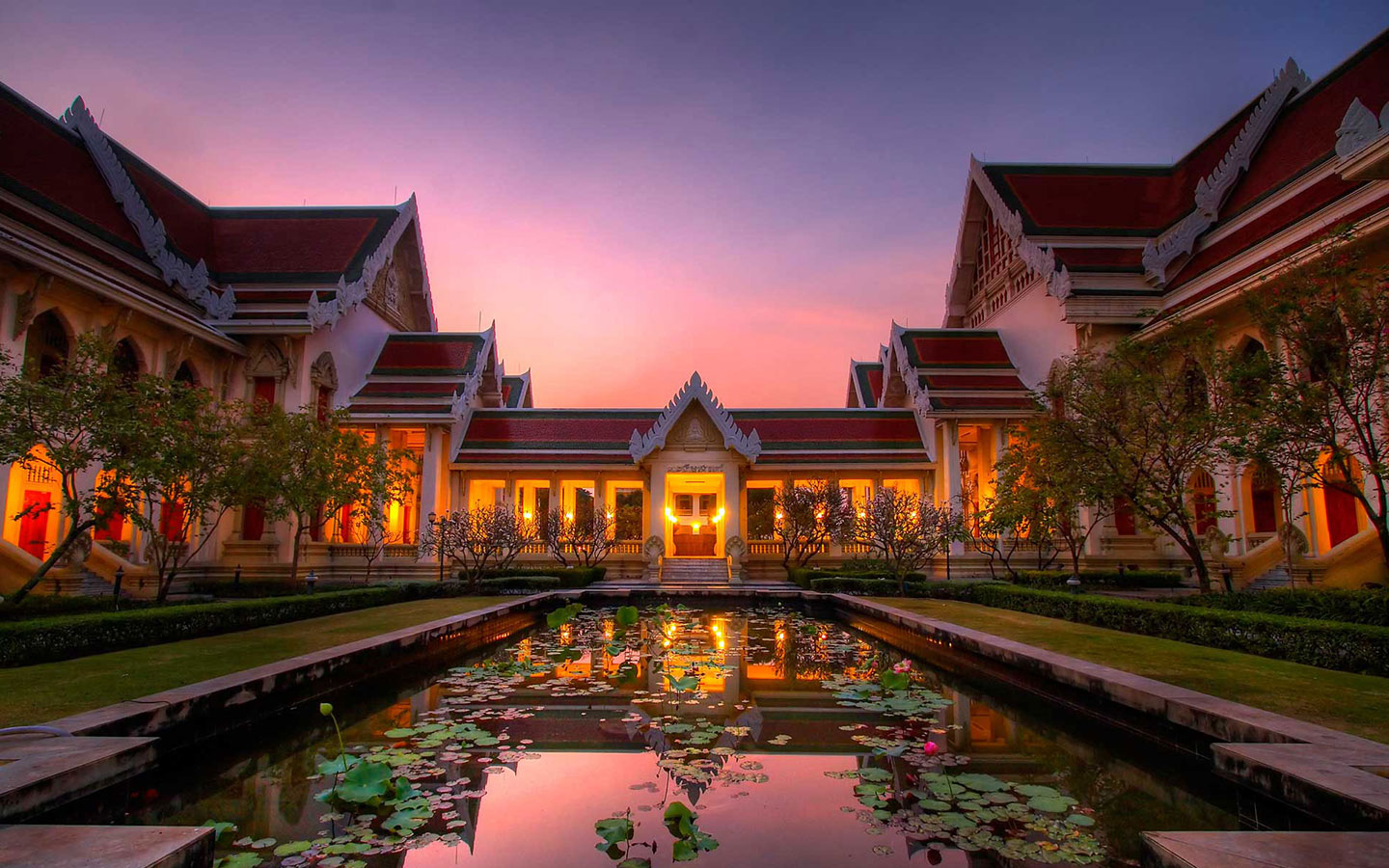 Chulalongkorn University, nicknamed Chula, is a public and autonomous research university in Bangkok, Thailand. The university was originally founded during King Chulalongkorn's reign as a school for training royal pages and civil servants in 1899 at the Grand Palace of Thailand. Its one of the most prestigious universities from Thailand.
So one day Micaela and I where going to MBK for some souvenirs shopping for her (as she was leaving Bangkok soon) and we saw a fairly big amount of people in a interesting outdoors zumba class and we where shook.
The Zumba Class
We stayed there looking at them for a little bit and noticed it was a very nice and fun class, out of the ordinary simple zumba dance moves and we looked for somebody who could tell us more about it and we asked.
A student told us that in fact it was a free class given every day from Monday to Friday at 5 PM and we decided to join along with Casey the next day. It was very fun and we got to hang out with the instructor, who's actually a really nice guy.
We danced with drumsticks (so crazy), we didn't have drumsticks of course but we borrowed them from the instructor. It was very fun but honestly very hard and even I got through it and didn't felt bad or in pain afterwards, I think none of us had the proper condition for it.
The good thing tho, its that when we were coming back home, I noticed a couple of guys starting to play some interesting instruments in a small room and I was intricate.
As usual by now, I approached them and asked them what was all about and it turned out it was Chula's Traditional Thai Music and Dance Club, and I was shocked (again).
Thai Music and Dance Club
When I attended the next day (now by myself), I discovered there was a lot of members of the club and they all where very welcoming and wanted to teach me everything.
The main singer tough me how to sing a song in ancient Thai! I'm still practicing and its obviously more difficult because I have to practice 100% hearing, no lyrics, no way for me to understand the song unless I translate but I won't be singing the translation but the sound.
They also tough dance moves for three different songs and its very probable that they'd let me participate in their main event the coming months! I'm so exited for it.
They have to do some designing and painting for their stage background and I already said I could help them with that so some painting projects might be coming as well. If you didn't know already, I'm a painter and drawer, you can see some of my projects on Instagram stories so if you're interested check it out!
I was so impressed by these people because not only they where so open and willing to teach me without hesitation, even though I'm not even a student in their university, but they invited me to their meals before practice and let me stay throughout their meetings and overall organization.
Further than that, they invited me for a dessert after practice and were worried about me getting back home too late so all six of these girls accompanied me all the way to my room.
We're now on waiting mode because they got into exam period but we'll be gathering back the 11th of March and I'm looking forward to it! I'll keep you updated about the practices and the coming events.
Yoga at the park | Bensajiri Park
This is a different friendship story that started in facebook this time but kind of by coincidence (as usual). I started viewing different events around my feed and it just happen that I saw a Free Yoga Class in one of them.
As I already had gotten very nice events out of facebook in my home town and here for Chinese New Year at the Embassy, I decided to check it out and see if I could join. The event said it was open just for three people and that two were already claimed. The park was kind of far from my area but I decided to ask for a spot in.
When I was accepted the next day I went to Miniso to buy my own yoga mat (that I was already planning to buy to do yoga from home) and the day after went all the way from Bangrak to Bensajiri Park to meet Beebie.
As every new project, things and plans start small to just be greater and greater in time and when I arrived to Bensajiri Park I realized I was the only one who attended the Yoga Class. It was a little bit weird at first, I think for both… Starting to do yoga with a stranger form facebook without really speaking but when we finished the session, we engaged in a very interesting and deep talk about life, beliefs, spirituality and more.
Beebie actually just finished a course to be a Yoga Teacher at India. She told me about her experiences in her trip, other places she's being and inspired me for future adventures and ideas.
Two days later she organized another yoga session with a friend of hers and we all got to know each other better because after the class we went to eat to a nearby market.
I'll be a separate post about markets and malls all around Bangkok, so stay tuned for that! If you're looking for a yoga teacher follow her at Yoga Teacher Travel and if you're around Bangkok look for her next free yoga class and join her in the next gathering available!
Monthly Gathering Bike Tour | Bang Kachao Park
Every month World Wide organizes a monthly gathering for all the interns in Bangkok and every time is a different place or theme. This time was really special because we went for a Bike Tour in Bang Kachao Park and a lot of Mexican interns joined.
Some of them where just arriving so everything was new for them and some others where in their final days already.
It was very fun to go and hear form different perspectives how its being their experience in Bangkok because even tho I've already been for a month and I'm no longer the "newbie", I still have a long way to go, a lot of places to visit and a lot of things to do and see. Being in touch with different nationalities and cultures is super nice and exiting but hearing about different perspectives from your own people is very enriching as well.
My good friend Alejandra and I
Talking a little bit more about the park itself is a very nice place to go and escape from the crowded Bangkok to a much more natural and peaceful place.
"From skyscrapers and sky bars that reach up to the heavens, to shopping centres that go on and on, Bangkok's status as a concrete jungle is well known – but lesser known is the real jungle that's hidden here (…) Many people assume that Lumphini Park is the best green space they'll find in the city, but Bang Krachao trumps it, hands down. " –Culture Trip
If you wanna experience this trip by yourself, here's a little bit of information and tips about how to get there and what to do:
So how to get there?
We met at Victory Monument MRT Station and took a taxi all the way to Wat Khlong Toey Nok temple, and then crossing the river in a wooden long tail boat that should only set you back 10 baht.
You can take a taxi from wherever you are to this temple and then cross the river.
Locals will use motorbikes on the island, but bicycles are more than fine for exploring, and can be rented from near the pier for only 100 baht a day.
Bangkok's Tree House
To catch the afternoon sunset (and a little bit of breath after all the biking), we headed up to Bangkok's Tree House, a very nice, cozy and modern hotel in the middle of nowhere — at least for us that got lost trying to find it, but probably because we were already inside the island and a little bit tired).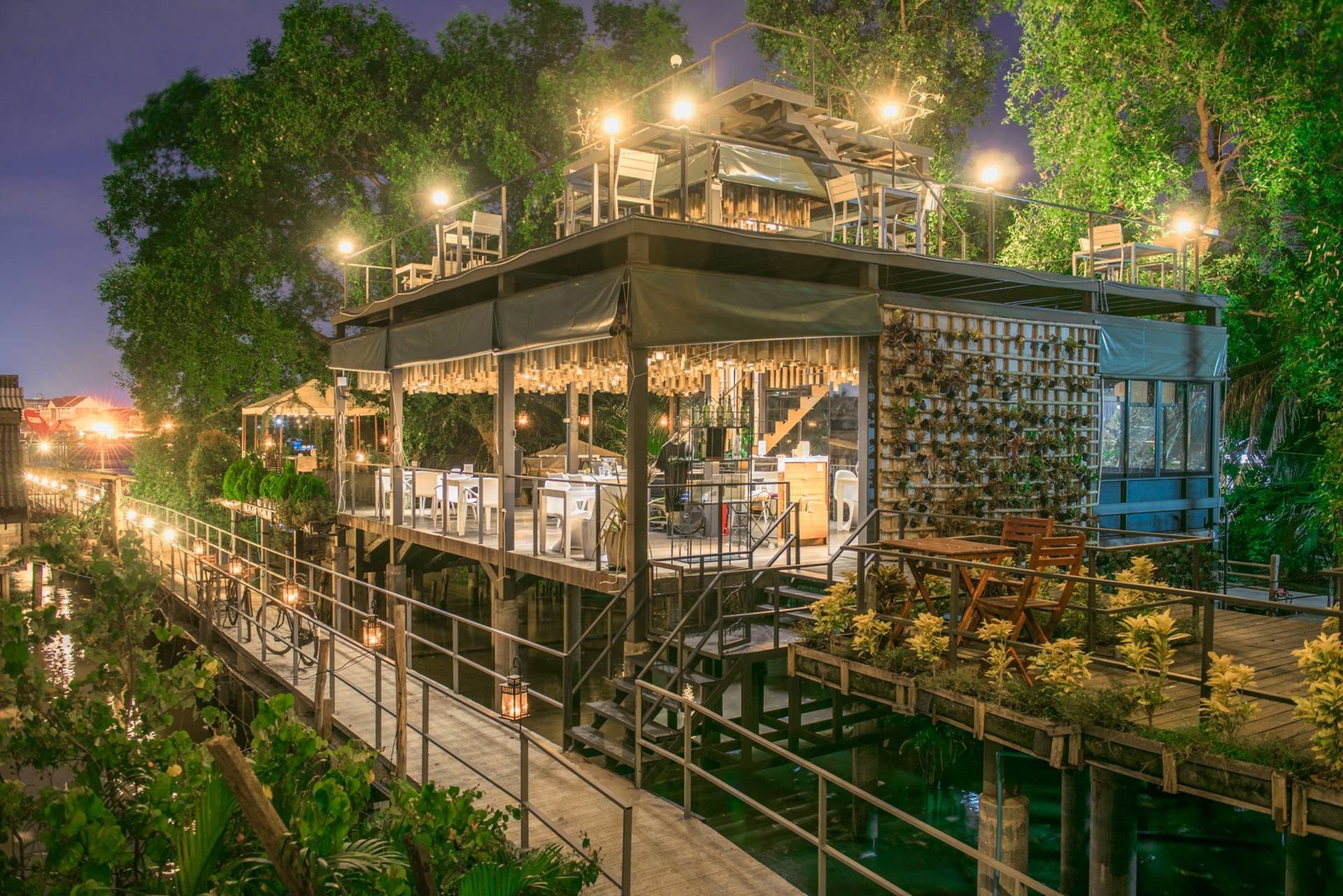 About their restaurant, we didn't really try much apart from the smoothies and some coffee but it looks very promising judging from their website's info.
"From our farm to your table, we offer our guests a rare experience: a distinctive atmosphere, local, organic cuisine and a seat with a view of the Chao Phraya River. At Reflect we serve modern Thai and International cuisine, paired with organic produce, sustainable seafood and a broad assortment of wines provide an exceptional dining experience.
Our innovative and skillfully executed dishes deliver intelligent compositions with engaging and inspiring flavors while celebrating local, organic, seasonal ingredients. Menus follow the seasons with daily changes as fresh produce becomes available in our fields and from sustainable fisheries, local fruit orchards and artisan dessert makers.
A vegan menu is always available. Please let us know of any dietary needs, as we are happy to accommodate advanced requests." – Bangkok Tree House
So if you some time give it a go let us know how is it. What we can tell you, its super nice to take pictures as well! And to enjoy the beautiful sunset from their terrace.
Goodbye Micaela
By the end of this month I had to say goodbye to my roommate Micaela, she returned home to South Africa the 22 of February and even tho we where just 1 month together we got to talk and know each other in ways that a lot of people don't experience.
I'll be talking more about her and our experience as roommates in a coming post.
I also explored a lot of the shopping malls (MBK, Siam Square, Terminal 21) and markets (such as famous Chatuchak and Ratchada Market) but I'm going to talk more in dept about them in separate posts.
Thank you so much again for your support, if you enjoy reading my adventures I would like to hear about you in the comments. It would mean a lot for me! So please take care and I'll see you in my next post. Cheers!
If you like this don't forget to share or pin for later!
Thanks for reading and see you next time! ♡
For more content, follow these & more projects, check out my social media:
Personal YouTube | Instagram | Pinterest | Facebook
Travel YouTube | Instagram | Pinterest | Facebook
Art YouTube | Instagram | Pinterest | Facebook
This post may contain affiliate links which means I may receive a commission should you choose to sign up for a program or make a purchase using my links. It's ok, I will only recommend products that I have personally used or care for – I love all of these products, and you will too! Learn more on my Private Policy page.