Like the traditional face changing performers of the chinese operas, Hong Kong is a city of many masks, mesmerising visitors and locals alike with discovering what is hidden around the next corner. It is a place where harmony has been born from the once frenzied streets and the history of the famous city has created a unique and proud culture.
Our visit to Hong Kong was short but and our plan was packed to the brim with activities. We only had 48 hours to spend here so having a local guide would've helped us to get the most out of the trip. It just so happens that Jono has been to the city many times before. His parents are from Hong Kong so he has a good idea of how to experience the most out of the least time available!

Thankfully the city has a very extensive public transport system so almost all of the city is super accessible (and certainly it didn't hurt to have Jono around to guide us!).
A few days before flying from Bangkok I had noticed he had been spending more time buried in his phone, tapping away at some research. Finally he had appeared with a rough itinerary which looked something like the list below:

(By the way we also have other posts which talk about the individual activity itself in more detail if you want to know more about or the best way to get there! We have linked them under our Hong Kong itinerary.)


Our 3 Day Hong Kong Itinerary
We arrived into Hong Kong at around 5pm and got into the city itself by around 6pm. To get into the city from the airport is super easy. There are multiple options as you would expect from a city like Hong Kong.
Day 1 Evening – Dinner
•Dinner at a Yum Cha restaurant (with his relatives). I wish I could give you more info as to where we went as it was super delicious! But at the time we were just really happy to get some food after a long day of travel.
Day 1 Night – Victoria Peak
•Head to Victoria Peak for a night view of the skyscrapers and harbour. Take the time to appreciate the Feng Shui (Apparently the translation is literally 'wind water' and that the combination of the two leads to good fortunes).

Now unfortunately we didn't have the equipment nor the skills to take some nice photos but I assure you the view was amazing! It wasn't very busy by the time we went up as it was beginning to get late so the busses and the Peak Tram weren't running. We ended up catching a taxi which Jono says actually ends up being cheaper if you're travelling with 2 or more people (If you catch the taxi from Central). Besides the tram was closed during our visit as it was undergoing an upgrade.

Victoria Peak is actually considered a residential area with public roads and walkways. Many locals will take a stroll up to the peak and down again to get in some exercise every now and then. With this knowledge we decided to wander around and look for different view points. They were hard to come by but we did find some different views of the city. By this time though it was already past midnight and it was time to catch up on some sleep. Now the downside of getting to the peak late was that getting down back into the city is a bit more difficult but luckily there is a night bus that runs every 30minutes departing from the Peak Bus Station.
Day 2 Morning – Causeway Bay
Late morning Yum Cha with Jono's aunties. We didn't have any photos of the food but trust us when we say it looked and tasted delicious!

After brunch we headed into the city to do some sightseeing. I must admit that I'm one of those people who search around Pinterest and Instagram to plan for my travel itineraries with the hopes of getting very nice pictures. I have a special love for visual arts so getting to have memories and experiences encapsulated in visual images is very precious and valuable for me.

Some spots which stood out and lined up with the Instagram worthy shots were the Olympic Stairs near the Causeway Bay MTR Station. The area didn't have anything special except for the stairs which seemed like they were often used by the locals to get to where they needed to go (Pretty AND practical). However just a short walk or Tram ride would take you to Central which is the main shopping and business area of Hong Kong.

Day 2 Afternoon – Victoria Harbour
After exploring in the morning we went to grab some light lunch at the local bakery to try some Hong Kong specialty breaks. We then headed to the pier to catch the famous Hong Kong Star Ferry to cross the harbour to the Kowloon side. Then take a relaxing stroll along the habourside. Also to eat some Hong Kong famous soft serve ice cream.
Day 2 Night – Kowloon Harbourside Symphony of Lights
After the strolling around the harbourside we decided to take a seat to relax and also to find a good view point for a special light show that runs every night!

"A Symphony of Lights (Chinese: 幻彩詠香江) is a daily light and sound show in Hong Kong. It is the world's largest permanent light and sound show according to Guinness World Records. The show is organised by the Hong Kong Tourism Board and is displayed every night with good weather at 8 pm. An orchestration of music, decoration lights, laser light displays, and pyrotechnic fireworks, the multimedia light and sound show lasts for around 14 minutes."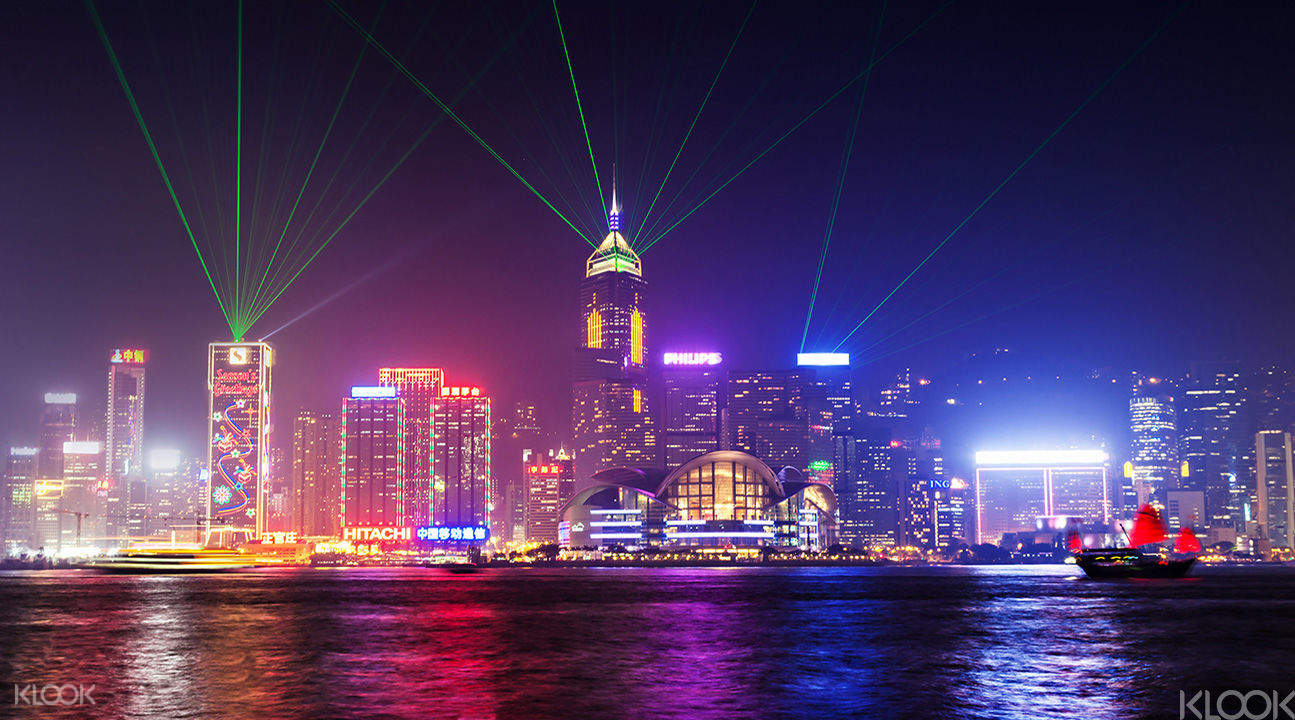 After the show we still had an appetite for more! So we caught the MTR (Subway) inwards to Mong Kok to discover the local street food and markets where you can find a huge variety of goods and even goldfish in bags (Which we were told is just what they do…).

Day 3 Morning – Man Mo Temple
We had planned for a day to spend at Disneyland but Jono said it's not that big so we could fit in another activity in the morning. Which is exactly what we did! Once again we went to a local bakery near where we were staying to grab a quick and tasty breakfast but we had to stay on the move. Today was going to be another non stop day.

We caught the MTR to Man Mo Temple which is a super beautiful and traditional temple which is still frequented by the areas residents. They come to get their blessings from the gods and to see if their future will hold some good fortune. We all could use some good fortune every once in a while!

No remember when I said I like to take photos? Well this place is excellent for some quick snaps. It's cozy but also there are enough corners and doorways to capture some photos of this amazing place without obnoxiously being in the way. We loved it!

"Man Mo Temple or Man Mo Miu is a temple for the worship of the civil or literature god Man Tai (文帝) / Man Cheong (文昌) and the martial god Mo Tai (武帝) / Kwan Tai (關帝). The two gods were popularly patronized by scholars and students seeking progress in their study or ranking in the civil examinations in the Ming and Qing dynasties. There are several Man Mo temples in Hong Kong, the best known of which is the temple in Sheung Wan."

How to get there:
•Bus 26 outside Pacific Place at Admiralty to Hollywood Road and get off near Man Mo Temple.
•MTR Central Station Exit D2 and turn right to Theatre Lane. Walk along Queen's Road Central towards The Center. Then take the Central—Mid-Levels Escalator to Hollywood Road.
•MTR Sheung Wan Station Exit A2 then walk along Hillier Street to Queen's Road Central. Then proceed up Ladder Street (next to Lok Ku Road) to Hollywood Road to the Man Mo Temple.
Day 3 Afternoon and Evening
As you probably know I love all things Disney, so it was an absolute must that we go to Disneyland here in Hong Kong! Now I have another post going into more detail which I'll link here. If you want read more about it definitely check it out!
Visual Itinerary
Day 1 in Photos
Day 2 in Photos
Day 3 in Photos
Additional Links
Looking back on it while I write this I can't believe we fit all this in! To be honest we did both get sick once we got back to Bangkok so maybe we didn't get away unscathed. This was also Jono and my first trip together and he told me later that he was a bit nervous and hoped everything went well. It was certaininly a 48 hours to remember! I hope you enjoyed reading about our Hong Kong itinerary and it was helpful for you to plan your next adventure.
We defintely had to leave some things out like Lan Tau Island, the Big Bhudda and Tai O village just to name a few but we certainly intend of visiting again!
This post may contain affiliate links which means I may receive a commission should you choose to sign up for a program or make a purchase using my links. It's ok, I will only recommend products that I have personally used or care for – I love all of these products, and you will too! Learn more on my Private Policy page.