Hello everybody and welcome to this post! Today I'm going to talk to you about one of the happiest places on earth, special Hong Kong edition! As I told you before in my post of Our 48 Hours in Hong Kong I didn't have much time to wander around but we had a mission when we arrived to visit Disneyland.
I certainly wish I could've spend more time exploring Hong Kong itself, tasting the food and appreciating the culture but my inner child couldn't stop screaming Disney!
The Park itself
Hong Kong Disneyland (Chinese: 香港迪士尼樂園) is a theme park located on reclaimed land in Penny's Bay, Lantau Island. It is located inside the Hong Kong Disneyland Resort and it is owned and managed by Hong Kong International Theme Parks. It is the largest theme park in Hong Kong, followed by Ocean Park Hong Kong.
Hong Kong Disneyland opened to visitors on Monday, 12 September 2005 at 13:00 HKT. Disney attempted to avoid problems of cultural backlash by incorporating Chinese culture, customs, and traditions when designing and building the resort, including adherence to the rules of feng shui. For instance, a bend was put in a walkway near the Hong Kong Disneyland Resort entrance so good qi energy would not flow into the South China Sea.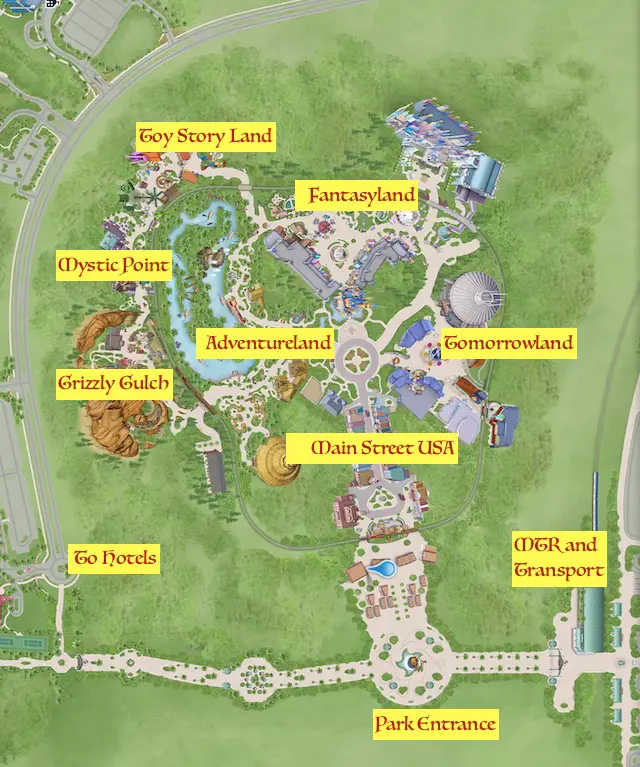 We basically spent the afternoon and evening in the park. We visited a small temple called Man Mo Temple in the morning on the way to Disneyland to take some nice pictures. It was not a big issue as the size of the park was small and we could walk it all in a few hours, maybe one or less.
The only thing I wish we had time to see was the Lion King and other shows in their theatres but we didn't really plan ahead or looked for the timing at each place. I don't think it was because of the lack of time but because of the lack of planning. Still I preferred it to be like that for us to have time to relax and wander around so that we could appreciate more of the park and the time we had there. We kind of just went there to experience the magic of the park itself and not any specific purpose.

The park consists of seven themed areas: Main Street, U.S.A., Fantasyland, Adventureland, Tomorrowland, Grizzly Gulch, Mystic Point, and Toy Story Land. The theme park's cast members speak Cantonese, English, and Mandarin. Guide maps are printed in traditional and simplified Chinese as well as English.

Main Street USA
Tomorrow Land
Fantasyland
Toy Story Land
Adventure Land
Grizzly Glutch
The Food
We paid in advance for the food so we got 10% discount and the food coupon for two meals, side dishes and two snacks. For the first meal we entered a food court type restaurant where they served different Asian cuisine menus.
For the snacks we got some popcorn mixture (caramel and salty) and an AMAZING ice cream! The Ice cream wasn't actually included and the other snack included we couldn't claim because when we were looking for getting it the shops were already closed. The ice cream was very expensive but to be fair it was not the typical basic ice cream, it was really good and tasty and they gave us a good amount to share as well. For dinner we got some basic burger and chips at Adventure Land and we tried to hurry so that we could head on to the parade!
There was a light show projected in the buildings of Main Street USA called 'We love Mickey'. It was an interesting show but it was not spectacular in my opinion. I'd even be more interested in a movie of Micky mouse's history or something but obviously was directed to the kids and it was just different images and collages of Mickey dancing to the songs.
Later in the night there was the parade with some of the characters, dancers and parade cars full of colorful lights. This was very special and wonderful. As usual you have a lot of people and I tried to record and take some pictures so I had to concentrate on that as well but I lived the experience very nicely anyways.
Overall I would say that even if this is not the main, biggest or even the most visited park, Disneyland Hong Kong still has the magic. The magic of being in a different universe. This park has all the essential techniques as any Disneyland which would make you feel like a kid again running around on the happiest place on earth again.
This post may contain affiliate links which means I may receive a commission should you choose to sign up for a program or make a purchase using my links. It's ok, I will only recommend products that I have personally used or care for – I love all of these products, and you will too! Learn more on my Private Policy page.