Have you ever dreamed of having a trip to a place as mystical and historically profound as Hong Kong? I have! We didn't have much time to discover all the hideaways in this region, but we make sure to visit some of the most interesting and popular places in the city. If you want to know how we spend our 24 hours in Hong Kong, read on!
One thing is for sure (and I will go into more in depth in future posts), but before traveling to Asia I was never really aware of the situation that was happening between Hong Kong and China. By meeting Jonathan and his family background, traveling to Hong Kong, and working in the hotel industry serving guests of both nationalities on a daily basis, I developed a better understanding of its people and history.
To give an overview, Hong Kong is a very busy city with both English and Chinese influence. You can see in the design of the city the impact of the rapid development it encountered in becoming one of the most economically prosperous cities in China in the past.
In addition to being a highly populated (with people and skyscrapers) and developed city, Hong Kong is also basically an island, so part of its magic and beauty is appreciating both worlds through the different points of view of the city.
If your trip is a day trip like we did, I recommend that you have a must see Victoria Harbor and The Peak in the afternoon / evening and decide on another two or three places of interest to visit and explore the city in the morning. We decided to take a look at the temples of Mong Kok and Man Mo.
Take a look and visiting Victoria Harbor was one of our first interests, we recommend that if you only have one day to visit the city in the morning and any interesting place that interests you first then jump to Victoria Harbor, appreciate the Symphony of Lights from there and then take a taxi to The Peak to see the city from above.
Note: You can also take the Peak Tram (which I would love to climb on), but it takes longer due to the long waiting lines and the speed of the tram.
Hello everybody!!! Maybe very few of you knew I went to Hong Kong as I just published in a Instagram Story once and didn't talk a lot about it but from the 29th of April to the 1st of May I took a very quick but exciting trip to Hong Kong!
The trip took place over 4 days actually but half of two of them we were flying so we just had two days there to explore. I didn't get too much sleep as I worked night shift the day prior and went straight to catch my flight. Went to bed late and woke up early to stretch out the days and the day I was returning I had to wake up at 3:30 am and go to work for afternoon shift at 2 pm!
It was a crazy trip for my sleeping schedule and I'd love to have more time but on my working circumstances it's what I could get and I'm so grateful that I got to travel anyways!
You might also question why if we had two days, the blog post title is "One day trip" and its because most of the second day we spent at Disneyland Hong Kong! So you'll see by the photos that I have two outfits from two different days but I put everything into a one day itinerary to make it easier. You can see a separate post on Disneyland Hong Kong already on the blog!
Harbour City
Symphony of Lights
"A Symphony of Lights (Chinese: 幻彩詠香江) is a daily light and sound show in Hong Kong. It is the world's largest permanent light and sound show according to Guinness World Records.
The show is organised by the Hong Kong Tourism Board and is displayed every night with good weather at 8 pm. An orchestration of music, decoration lights, laser light displays, and pyrotechnic fireworks, the multimedia light and sound show lasts for around 14 minutes."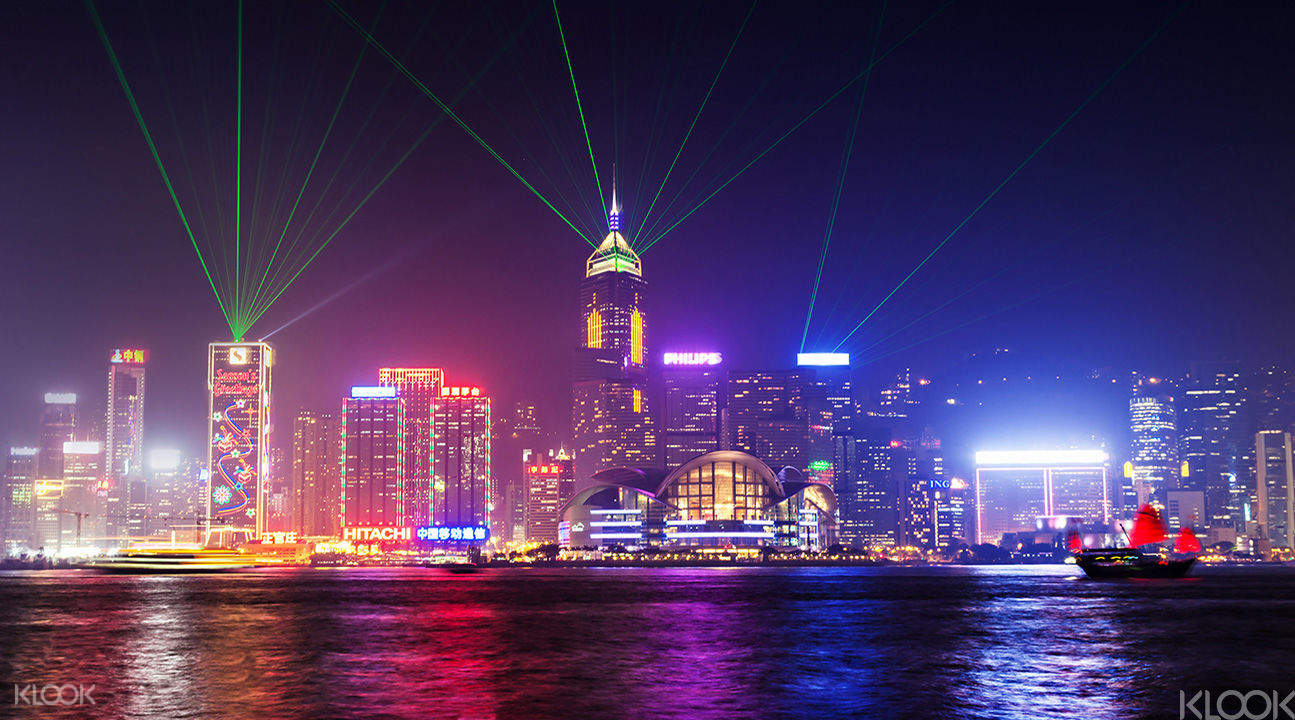 The Peak
Sadly we don't have the camera skills to take nice pictures at night or in weird light conditions so we weren't able to take any pictures of our own. At this point in the night and the pictures we got with our phone weren't that nice either. I can however show you what we saw up there. It was not extremely packed but there was enough people to battle for a nice shot. Good for us, as I just explained we knew we weren't getting any so we just walked around.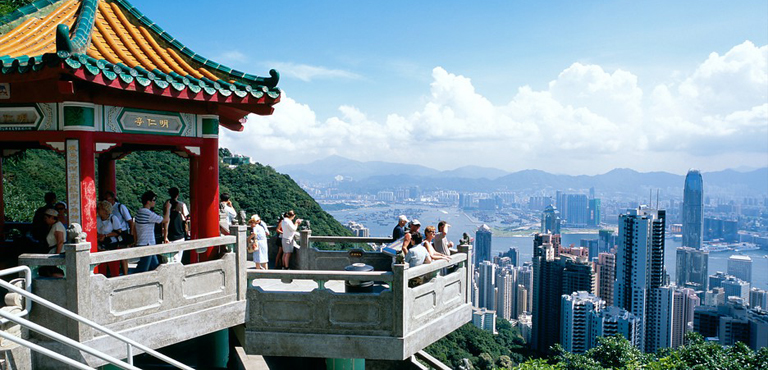 There are beautiful photos of the place from day time but as we just experienced this place in the night I'll add this stunning picture of the view so that you get the idea. This area doesn't have anything that prevents the tourist and general people from entering and having a walk so we lost track of time and we stayed there until 1 am! The down side though is there's no any more taxis and we were lucky we catches the last bus but it takes ages to take you to your destination. We came back safe and sound at the end though!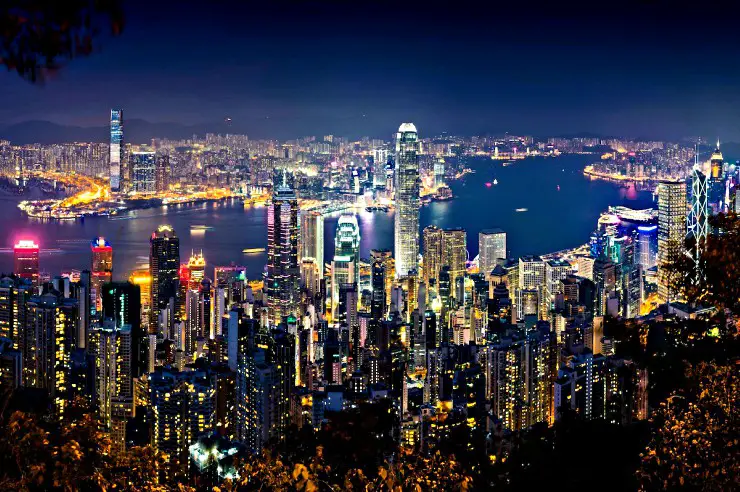 Man Mo Temple
I must admit that I'm one of those people who search around pinterest and instagram to plan for my travel itineraries with the hopes of getting very nice pictures while exploring any place. I have a special love for visual arts so getting to have memories and experiences encapsulated in visual images is very precious and valuable for me.
Man Mo Temple is a place to enchant the eye of any viewer and a place for photographers to sneak around the corners and get very unique images with a mystic and magical touch.
"Man Mo Temple or Man Mo Miu is a temple for the worship of the civil or literature god Man Tai (文帝) / Man Cheong (文昌) and the martial god Mo Tai (武帝) / Kwan Tai (關帝). The two gods were popularly patronized by scholars and students seeking progress in their study or ranking in the civil examinations in the Ming and Qing dynasties. There are several Man Mo temples in Hong Kong, the best known of which is the temple in Sheung Wan."
We went particularly to one located in Hollywood Road called Sheung Wan. This is the largest Man Mo Temple in Hong Kong. It was built in 1847. It is part of a complex that comprises three adjacent blocks: Man Mo Temple, Lit Shing Temple (No. 128 Hollywood Road) and Kung So.
The Man Mo Temple, the main building of the complex, is dedicated to the civil god Man Cheong and the martial god Kwan Tai. Lit Shing Kung (列聖宫) is for the worship of all heavenly gods. Kung So (公所), to its west, was an assembly hall where community affairs and disputes were settled.
In 1908, the temple was officially entrusted to Tung Wah Board of Directors. The temple has since been managed by the Tung Wah Group of Hospitals. It was graded as a Grade I historic building in 1993 and it is now a declared monument.
We decided to go in the morning before heading to Disneyland because it was on the way anyways and we didn't got enough time the day before to explore this area.
Additional Information
Address: 124-126 Hollywood Road, Sheung Wan, Hong Kong Island
Tel:+852 2540 0350
Website: www.tungwah.org.hk
It is open from 8:00am to 6:00pm daily.
How to get there:
Bus 26 outside Pacific Place at Admiralty to Hollywood Road and get off near Man Mo Temple.
MTR Central Station Exit D2 and turn right to Theatre Lane. Walk along Queen's Road Central towards The Center. Then take the Central—Mid-Levels Escalator to Hollywood Road.
MTR Sheung Wan Station Exit A2 then walk along Hillier Street to Queen's Road Central. Then proceed up Ladder Street (next to Lok Ku Road) to Hollywood Road to the Man Mo Temple.
Thank you very much for reading and I hope to see you next time for another exciting post! Don't forget to follow me on instagram @cecyesparzadiaz to see these and more pictures.
This post may contain affiliate links which means I may receive a commission should you choose to sign up for a program or make a purchase using my links. It's ok, I will only recommend products that I have personally used or care for – I love all of these products, and you will too! Learn more on my Private Policy page.